So here's another batch of reviews I had queued. I watched these last summer and wrote these reviews and I'm posting now, really.
2×2 "Some Assembly Required"
Another non-vampire episode after the puppet one.
Angel is asking whether Buffy is serious or "mating" with Xander. The vampire Korshak comes out and then they find someone's been removed from their grave.
Buffy goes to the Library with Xander and they talking about pick up lines and dating Ms Calendar.
It seems that two of the students at school are corpse stealers. I thought I saw tension between Xander and Buffy. Cordelia is on with Buffy & co as they are going to investigate. Buffy doesn't want Angel to help them so she hasn't let him know.
The two students are about to attack Cordelia after her cheer-leading session, but Angel shows up and she lets him know that Buffy is at the cemetery. She finds a hand from a corpse..
"Why do those terrible things happen to me" – Cordelia. A great quote.
"Karma cough cough" – Xander
And Angel gives Cordelia a lift home.
The students were intending to create some Frankenstein girl made up with parts from different dead girls' corpses.. for some Frankenstein-like monster who was one of the students' brother.
One of them tries to capture Cordelia at school but Buffy intervenes, only for her to be captured during the game (which Giles attends with Ms Calendar). I like to see Giles with Ms Calendar, they are a great couple.
Buffy and Co rescue Cordelia just in time, in the old school lab, when a fire starts.
Giles ends up getting a second date, Angel and Buffy talk some more…
2×3 "School Hard"
The Master is dead and the anointed kid is in power now.
The 'new' headmaster is angry with Buffy and some other student, so he tasks them with taking care of Parents' Night  (the Sunnydale equivalent of our Parent's Day) including the refreshments. What could go wrong, Xander asks, and of course it's the introduction of the evil vampires Spike and Drusilla, who seems to have something unearthly about her. She's a princess she says, before kissing Spike. They've moved into the anointed one's lair. Dru wants Spike to kill Buffy. Nice to know that Dru's actress has read my reviews.. wow that's encouraged me to write some more.
Buffy's mum is hoping that Parent's Night will bring her closer to Buffy. They had to move once because Buffy got in trouble at school.
Buffy is afraid that slaying will get her expelled.
Spike tells Buffy he will kill her this saturday, after she fights and kills a vampire.
Spike plans to restore Dru with the Hellmouth and to burn the town down.
Spike has captured the other student who was silly enough to follow him, and gives her to Dru to feed on.
It's nice to see Cordelia helping the group with preparing to fight the vampire Spike, just before the Parents' Night.
Spike's original name was William the Bloody, it turns out. He has killed two Slayers this century.
Suddenly Spike and his vampires – of course he couldn't take Buffy on his own – attack the Parents' Night.
Snyder thinks that the vampires are a gang on PCP, and that's the official police statement after the vampires are defeated with Angel's help and Spike escapes. Angel had sired Snyder, kind of like being his Yoda. Spike puts the anointed one in a cage and kills him. This marks the start of a different enemy for Buffy.
Buffy's mum is very proud of her, how she helped others.
2×4 "Inca Mummy Girl"
The lovely Ara Celi ("Looking for Lola", "American Beauty", "Machete") plays the 500-year old  mummy girl Ampata..
"Exchange of cultures is nice", says Xander, and I agree. Something people need to hear I think what with this brexit, trump and isolationism. Rodney Marson (check) is a bully.
'I don't always use violence. Do I?' Buffy asks.
So the group is at a museum and they are demonstrating an incan human sacrifice.
The mummy grabs Rodney and kills him. Or it looks like it.
The group is talking about the dance again. Xander isn't interested in kissing Willow's lips – he tells this to Buffy and Willow overhears the conversation.
The group goes to the museum to find Rodney who is missing and are attacked by some creature. Willow looks at the mummy and now it resembles Rodney.
It's time for Buffy to pick up the exchange student Ampata from South America. He might help translate the seal, too.
The original mummy – kisses the exchange student (killing him, mind you) – and the mummy now becomes a beautiful young woman calling herself, Ampata, the dead student's name. Now Buffy and co believe Ampata to be the exchange student.
Xander is becoming close to Ampata.. she likes his jokes.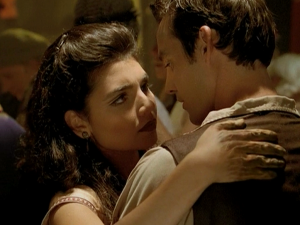 Giles discovers that Rodney's killer might be the mummy. He was freeze-dried.
The bodyguard of the mummy attacks Xander and seeing Ampata, falls down, so they manage to escape. He wanted the seal.
Ampata is asked out by Xander, she accepts his invitation to the Dance. In between she kills the bodyguard in the ladies' restroom, mummyfing him.
Later, he is discovered, and Giles and Buffy find the corpse of the real exchange student in Ampata's baggage.
Meanwhile, Ampata and Xander dance, with Willow looking on in a rather sad way.
Seth Green (I keep thinking of him as Dr Evil's son) notices the "eskimo girl" – Willow.
Buffy and Giles are on the way to the school dance.. and things heat up.
It's a great episode and fun to watch.