So I watched another block of 3 episodes of Buffy the Vampire Slayer. Not all in one go actually.
1×8 "I Robot You, Jane"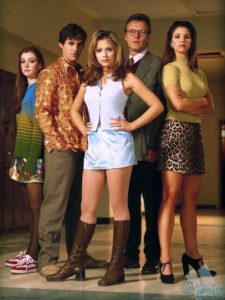 This was not scary. It was however an exaggerated tale of a demon trapped in antiquity inside an old book, which gets scanned by Willow releasing the demon into the Internet where he can leave a trail of evil, controlling geeks in Summerdale.
I did think it was ok but it's really too exaggerated compared to the rest. You have to keep in mind the time when it was produced, though.
1×9 "The Puppet Show" is not bad at all, unlike what most people think! I enjoyed this tale of a demon hunter becoming trapped in this puppet. We get to see the new headmaster, Principal Synder played by Armin Shimerman (known for playing Quark on Star Trek Deep Space 9). I actually thought he would turn out to be the demon, but this was not the case. I really thought Giles would end up dead, too. Worth watching.
1×10 "Nightmares" is a scary episode if you can say that. Everyone's nightmares come real in daytime. Xander ends up naked in class. Willow has to sing in the Opera – in italian – but cannot.  There's a big bad vampire too. It's all connected to Lucky 19, who is a hospitalised kid in a coma. The girl who goes for a smoke in the school basement but gets attacked by the vampire is reminiscent of one of the Smallville meteor freak of the week episodes. Buffy's nightmare is of becoming a Vampire and buried alive. I enjoyed this too.