This is the crossover fanfic in my fan-series which is built on the assumption that the new Star Trek alternate reality (Star Trek (2009)) is the same one as the Doctor's and Stargate's ie Universe-777 (the Stargate & Doctor Who universe). Featuring the 10th Doctor and other Star Trek 2009 characters.
Story (C) 2002-2012 Mr SciRev
SPOILER: Star Trek 2009 movie. Doctor Who Easter 2009 Special.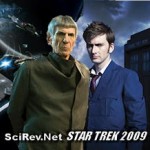 What you need to know:
"The Doctor's Universe-777 and the Star Trek Universe shown in the new Star Trek (2009) movie are one and the same. The original Spock is now in Universe-777, in the 23rd century. The Planet Vulcan has been destroyed by a black hole and survivors are attempting to find a new homeworld. They have decided Delta Vega would be ideal."
* * * * * * *
The Enterprise
* * * * * * *
Young James Tiberius Kirk had been made captain recently after his bravery in defeating the Romulan Nero from a parallel future. The words of the Old Spock were still in his mind when he called his Number One officer, "friend". He told Mr Sulu to set the course for Delta Vega. Now the black hole which destroyed Vulcan had vaporised and there would be no threat to the Vulcan survivors living on Delta Vega. The latter, the old Admiral Spock had said, would now be renamed New Vulcan. A possible alternative would have been Romulus, but they would never accept the Vulcans on their world.
The only problem was that there were some colonists on this planet, mainly scientists in a Federation research outpost. The M class planet was very cold – icy cold – but nothing that some simple basic terraforming could not help. In the past, even Mars had been terraformed, after all.
A humming sound could be heard in the Engine Room of the Enterprise. Suddenly out of nothing, a blue box appeared. Montgomery Scott, Chief Engineer, was dumbstruck… he had seen old photos of telephone boxes but never believed he would see one. And now, it opened…
Continue reading Star Trek: 2009 #1 – The Time Lord Arrives →