The outfit was a small group of surivors from Stargate Command. Their hq in Cheyenne Mountain- had been taken over and General Hammond was now dead. At first they did not notice that he had been replaced by a Kromagg. Many others had been replaced on the base. The group was now being led by Colonel Sam Carter. They had taken with them a very special alien mirror, one which could show you and even take you to different parallel realities. Many of them had indicated their worlds were being invaded by these Kromaggs or other parallel universe versions of them.
This is the crossover fanfic in my fan-series featuring Rose from Doctor Who (the new BBC tv series) – and a new Sliders team.
Story (C) 2007-2015 Mr SciRev
For the Dr Who Timeline Related to this Fanfic, or to read what happened just before this fanfic, please see WhoSliders 28. It occurs during the 4th series of the new Dr Who
SPOILER: the Key to Time arc (season 16 of Doctor Who's classic series)
What you need to know:
"What if you could go to different earths? Same planet, different dimension and universe. Rose Tyler has found the gateway.
The Doctor is currently travelling with Donna. He is on a crusade to champion the cause of the innocent, the helpless and the powerless throughout the whole multiverse of multiple universes. He has lost Rose to Earth-776. Interdimensional travel seems impossible so he can never meet her again.
Rose Tyler has formed a Torchwood team of Who-Sliders – Computer specialist and expert Jade Wells, Quantum Physicists Professor Arthur Maximillian and Conn Mallory, Captain Jack Harkness (of Earth-777), Max Evans and his girlfriend and Medic Liz Parker – all from Earth-776. Together they slide from parallel earth to parallel earth, trying to find Earth-777, where the Doctor is located… but for the time being they have been entrusted with a special mission to locate the six segments of the Key To Time, once located by the Doctor himself, or the Multiverse will be at risk from the Black Guardian.
Lassar, a bloodthirsty Krillitane alien, was leading the Black Guardian's Sliding team which has broken up. Logan St Claire – a Quinn duplicate from an alternate reality – and Lassar have been imprisoned by Captain Archer of the Parship Enterprise. Suzie Costello (used to be second in command of Torchwood on earth-777, died a number of times too) died on Earth-501. The location of Bilis Manger (the team's historian) and the "Editor" (expert on transmat and technology) is currently unknown, they may be still on Earth-501.

The Doctor is a Time Lord – a time-traveller from the alien world called Gallifrey [Universe-777, the Stargate Universe] who travels in space and time thanks to his TARDIS which looks like a police box, bigger inside than outside. When the Doctor is severely injured or even killed, he will regenerate into a new appearance and body. He is currently in his tenth incarnation (9th regeneration). He is the survivor of the Time War which saw his homeworld Gallifrey destroyed completely.

The original who-Sliders, after having managed to travel back to Earth-001, have kept experimenting with dimensional travel. Years have passed since the Sliders returned. They are no longer able to slide and have lost contact with the Doctor.

The Federation in Universe-001 has developed starships capable of sliding. Parships can Slide across parallel universes using ParTravel, based on Sliding technology. Captain Jefferson Archer of the Federation Parship U.S.S. Enterprise is himself from Earth-002 however which has disappeared from existence. The Federation exists at least 200 years in the future. The original WhoSliders' timer was given to them by Archer. Professor Justine Robson is the Science Officer on the Enterprise. "
---
Earth-001
---
Earth-Prime was in a sorry state. Few were aware that in fact it had been taken over, invaded by evil Kromaggs from other dimensions.
The Kromaggs were now thinking of exterminating all the humans, starting one by one.
The Kromaggs had covertly taken over human buildings and even human technology itself. The Kromaggs had set up a world-wide net to prevent any unauthorised translocations, or sliding as humans called it.
At Smallville in Kansas, Clark Kent had just discovered that Lana Lang had been replaced by a Kromagg. She had visited his home and she had attacked him, attempting to mind control him. Apparently this Kromagg knew of Clark's special abilities. Clark resisted this and with his X-ray vision, realised that it was not Lana Lang at all in front of him. Resisting the illusion, he grabbed her and attempted to get her to talk. "Who are you? What have you done with the real Lana?"
"The real Lana is dead. I am not even female. I am K'Lnin, a Kromagg."
"An alien?"
"No alien. I am from a parallel earth. You are a stinking vermin who must be eradicated."
Thankfully it was very easy for Clark to bind her up with some rope. Clark decided to seek out any other Kromaggs who might be in the area, so he left and ran alongside a number of roads in the town.
He was shocked at the number he saw. There was one thing to do now. He would go to Chloe and ask her to search for information about them.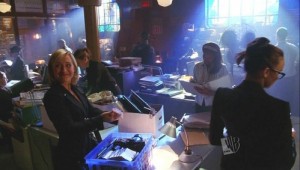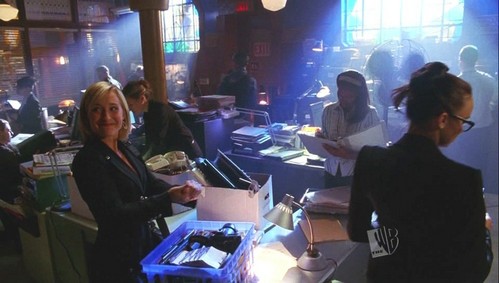 Chloe was at the Daily Planet, working on a story when Clark arrived. After he told her, she told him this was worthy of her old "Wall of Weird".. "Kromaggs hmm. Let's see"
She searched various sources besides the usual Google and turned up some references to a resistance against these dimensional intruders who were impersonating many people all over the world. Clark decided to go to his Fortress of Solitude in the Arctic. It had been restored only recently in fact.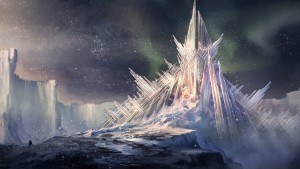 Clark accessed the Console and asked Jor-El about the Kromaggs. "The Kromaggs are a deadly race. They will attempt genocide. You must stop them, Kal-El. This is part of your Destiny. You must accept it."
"Can you tell me anything more that could help me defeat them?"
"They coevolved with Humans on a parallel earth. They have a military government, one called The Dynasty, and they have vowed to exterminate all human life on all parallel earths. They use pulse beams of radioactive green light which is dangerous to all life including you, as it is based on kryptonite. A number of the Kromaggs were so called deviants to their race – a genetic anomaly rumour says was created by the Black Guardian of legend. The Kromaggs have no females of their species, they all died out due to a weapon used to drive them off from Kromagg-Prime. They had set up breeding camps at first. After a lot of experiments, which included the creation of Humaggs – hybrid Human-Kromaggs – who were not sympathetic to the Kromagg cause, the camps were shut down by the Kromaggs. The deviant Kromaggs took over and eliminated the other Kromaggs. They instituted an attack on various parallel earths via a place known as Knowhere."
"Knowhere? What kind of name is that?" Clark asked.
Jor-El continued, "Knowhere is the abandoned head of a dead Celestial at the very edge of space-time which exists in multiple realities. It is a doorway to many parallel earths, a nexus point in time. My sources indicate that currently the location is being investigated by a Time Lord, who will defeat them at that point."
"A Time Lord? Isn't that a legend?"
"No my son, he is very real. He is just not from our reality. Back to your task. A resistance is being built by humans. You must go and help them now. Leave now!"
"Wait!" Clark said while a teleportation beam hit him. He disappeared from the spot as Jor-El's voice said "Good luck my son! May you save all once more!"
The Kromagg Dynasty was now being ruled by Chromaz, who now lived in the main Kromagg base on this earth. While his nephew K'nasp had been supposed to become its main ruler, Chromaz had to all intents and purposes usurped his rightful place. K'nasp had been raised mainly by Jules, an old man who in his youth had believed he was a Kromagg himself. Jules was aware of the past of this earth, even though he himself had not been born here. He was from another parallel earth and had been sent here by the Kromaggs. He had met a small group of humans who helped him learn that he was not a Kromagg. They had regaled him with tales of the Doctor who had helped with the fight against the Kromagg-Goa'uld hybrid aliens, as well as the story of the One who had the anti-kromagg virus in his blood. He hoped they were still alive.
Now it was time for Jules to help K'nasp escape this place, before he would get killed by Chromaz. K'nasp hid in a wardrobe, while he watched Chromaz brutally kill a Kromagg who had rebelled against the Dynasty. So as soon as he could, he left in his car, hoping to find the humans who might help him. Jules had also given him a specially modified mobile phone, which was supposed to be able to contact the Doctor. The original mobile was given by the Doctor to the group of humans, but the Doctor could not be successfully contacted. It was not clear whether this was due to the Kromaggs jamming the frequency used by the Doctor's TARDIS or to this particular point in time and space being timelocked.
Jules had lately worked on boosting the signal by piggy-backing to a number of communications satellites. It was not easy, but it could be done. But would this setup be enough to break the isolation?
N'nasp walked and walked on, evading the checkpoints set up by the Kromaggs. It was his destiny, he believed, to save this world from utter Kromagg Domination. But he needed help to do that. Soon, walking in the deserted San Francisco area, he came across two human rebels! They laid a trap on him and attempted to capture him. He surrendered immediately and told them he was on their side.
"Sure you nasty magg. You think we're idiots right?" Martin told him.
"No, my name is K'nasp. I was raised by Jules – a human who had been raised to think he was a Kromagg"
The other rebel, Alfred, said "I've heard of him, this Jules. So tell us more."
And K'nasp continued the sad tale of his life. He also explained on how he sent the signal to try and contact the Doctor.
"We should try to find the First ones" Alfred said.
"First ones? Who are these?" K'nasp asked.
Meanwhile on the planet P10X-920-333, Rose and her team received a signal via her mobile phone. A request for help, it was from some alien who asked for the Doctor's help. But the Doctor was not yet here, and the WhoSliders could help. Moreover, the mobile phone app indicated the final two segments of the Key to Time were on the same world – Earth-001 ! So they slid to PX10X-920-001.
Back on earth, a small military outfit had been travelling undercover to hide from the Kromaggs which by now were everywhere.
The outfit was a small group of surivors from Stargate Command. Their hq in Cheyenne Mountain- had been taken over and General Hammond was now dead. At first they did not notice that he had been replaced by a Kromagg. Many others had been replaced on the base. The group was now being led by Colonel Sam Carter. They had taken with them a very special alien mirror, one which could show you and even take you to different parallel realities. Many of them had indicated their worlds were being invaded by these Kromaggs or other parallel universe versions of them.
At Cheyenne Mountain, the Kromaggs had been busy trying to access the data on the main computer database. While Sam had attempted to destroy the computer before they left, she had not succeeded in doing this, since the Kromagg impersonating Hammond changed his codes (he had taken Hammond's codes from his memory earlier). At least she managed to send out a call for help via the Stargate. God knows who would receive it. The Tok'ra had been disbanded. The Atlantis expedition had been eradicated – it had been blown up by Kromaggs probably – and nobody knew if any survivors were left. The Asgards in this universe were dead now too.
So the klaxons sounded as an incoming wormhole was being received. The Kromaggs, were thinking whether to let the arrivals through the gate or to quickly close the iris, killing whoever was trying to come here. The possiblity of the arrivals having more technology to be gained by the Kromaggs was highly regarded, though. And could anyone defeat them? Of course not.
And so the order was given by the Kromagg who had replaced Walter Harriman, not to close the iris.
A small group of humans came through. Instead of facing the usual suspicious soldiers, Rose and her WhoSliders saw a number of Kromagg soldiers. The Kromaggs did not even bother to project a humanoid disguise, at this late stage in the invasion of this earth.
"What's going on? Who are you? I've never met any aliens like you" Rose asked.
"I'm not an alien!" one of the soldiers complained. "We are from a parallel earth where evolution took a different path."
"State your intentions. Do not act irresponsibly or you will be killed."
"We received a signal asking for help."
"Oh yes, help. The rat woman sent for you, then" the Kromagg General said. He was the one who took over Hammond.
"A male alien asked for us. In fact he was one of your kind. Are you in charge of Stargate Command?" Rose continued.
"Yess.. you can say that. We are now in command. Now die, vermin!"
Quickly Max raised up a force field around all the team, which protected them.
"Oh great, so you've invaded the place. It's a foothold situation people! Ready your weapons!" Captain Jack said as he blew up all the Kromagg's heads in the room, after Max weakened the part of the force field in front of Jack. "Nice little phaser you've got there", Maximillian said.
"Comes in handy!" Captain Jack answered. "come on, let's find SG-1. Failing that, let's get out!"
"I can't find the segment here. It's elsewhere – outside of Cheyenne Mountain this time!
Meanwhile in the UK, a special "Excalibur" team was set up to fight the invaders, it consisted of intelligence official Pete Wisdom, the superhero Captain Britain and special agent James Bond (all versions from this universe). They fought off many Kromaggs in a number of battles and attacks. Eventually Wisdom found some Faeries (the ones encountered by Torchwood) and made some pact with them, so that there would be no Kromaggs in the United Kingdom.
This meant all Kromaggs simply disappeared into non-existence in the UK, but the country would be vulnerable to any Faery attacks…
At FBI headquarters it was only a few months since Agent Mulder (previously of the X-Files Division) had gone into hiding, after he started to uncover details of an alien infiltration of the FBI. Super-soldier Kromagg agents had replaced various key officials, indeed even Deputy Director Kersh was not himself anymore. The original Kersh was either captive or long dead.
Agents Monica Reyes and John Doggett were working with Agent Scully, after she had her baby, to find out which officials had been replaced. According to their findings, this included most of the top officials, even AD Brad Follmer. Because of this, Mulder had taken Scully's baby with him into hiding, so he could protect the baby. He believed the baby would play a major role in defending the world from the alien invaders.
Rose's group managed to get out to the surface, blasting some more Kromaggs along the way, taking the lift which reached the surface. Now they needed to travel towards the closest of the two segments, wherever that was, avoiding Kromaggs or blasting them to kingdom come.
Alfred explained who the legendary First Ones where. They were the first ones to develop the Sliding technology. Their names were Quinn, Arturo, Wade and Remmy. Remmy was known to be missing on some other earth, while the other First Ones together with those who had joined them, thanks to the Doctor, had returned to their earth to continue developing the sliding technology. But after the invasion had been slowly developing, they had went into hiding to try and resist the intruders, or so it was said.
"Do you know how to find them?" K'nasp asked.
"I believe I do. I will take you to the place I believe they may be located."
"Good, because they can help us defeat the Kromaggs. And perhaps the Doctor will be with them."
Agent Mulder had met Jack O'Neill of Stargate SG-1 when he had went into hiding. This was the best way for him to try to stay alive, he thought. Lately this little resistance group had heard of another resistance group, one headed by the WhoSliders. Or the First Ones who developed sliding as they were called. Mulder suggested to try to meet them so they could get the two to work together against the Kromaggs who were everywhere. The tv journalists were now Kromaggs, most of them anyway. Police officials were almost all Kromaggs. The military, too. Mulder wasn't sure he could trust all the military who had escaped from Stargate Command, after all some of them might have been Kromaggs. For all he knew, he could have been going straight into a trap. But he trusted Jack and Sam enough to trust them with the baby.
Rose's WhoSliders travelled by jeep and followed the trace of at least one segment of the Key to Time.
It indicated that it was located in an Anasazi pueblo ruin, in New Mexico. So they drove on.
Quinn and the original WhoSliders were hiding in New Mexico. They had been organising a rebel resistance from that location, an old indian american ruin. Quinn's mother, Remmy's old manager Artie Feld and even crazy Conrad Bennish Jr who was another student of Arturo's, all were present and heavily involved.
Maggie had had a full specification and samples for an anti-Kromagg virus, yet nothing had been done with it. To make matters worse it had been confiscated from her and authorities had simply dismissed the whole matter. On the other hand, at least she now could breathe the air of this earth, unlike previous times when she came to this world.
So they had effectively failed. Now this earth had been invaded in a silent way, many people had been replaced by the maggs and the illusion was so effective that it was impossible to tell who was human and who wasn't.
Someone had arrived here in a car. They tried to see who it was. They saw the man come out of the car and he approached them. They checked and saw he was not armed. He said he was Fox Mulder. He was in search of their Resistance. He wanted their help against the Kromaggs, to get the Truth out in the open and to defeat the maggs.
So eventually Quinn explained to Mulder about how earth was protected from some alien races like the Goa'uld by the non-intervention treaty, so any existing Kromagg-Goa'uld hybrids would not be able to attack. But these invaders were pure Kromaggs, though they had been "improved" somehow. How this happened he did not know.
Some time later another car arrived and a Kromagg got out. Of course a number of the resistance pointed weapons at him and cautioned him not to do anything stupid. He spoke with an old voice "My name is K'nasp! Is the Doctor with you?"
K'nasp took a look at the First Ones. He had met them now at last! They were legends to him, the first humans to have invented sliding technology. Quinn, Wade, Maggie and Professor Arturo. Only Remmy was missing. K'nasp was disappointed when he was told that the Doctor was not here, and just as disappointed that Remmy was not here. Remmy was off-world, back in a world where he was the King of Rock 'n' Roll instead of Elvis Presley!
The Tenth Doctor was talking to Rose. "You will make it. You will find the next segment in the anasazi village. You will also find a long lost friend of the original WhoSliders! Here's where to find him…. We will meet soon, don't worry, so good luck!"
After hearing these words, Rose woke up. She had been dreaming that she had met the Doctor on this earth. Pity it was just a dream, and a fleeting one at best. She did her best not to forget the instructions he passed her.  She was certain it was really him, and not "just" a dream.
All those dreams that she had had. She still hoped to meet him, to live a life with him. But could this ever become a reality? The Doctor was not human, and she would die before he would. So it was not like he would ever spend his life with her, like she wished. But she held on to this hope of hers. She told the others that the Doctor was here, she could feel his presence. They did not really believe her. They hoped he was here, but it was unlikely. She always believed six impossible things before breakfast, like the Doctor had told her, after all!
Suddenly a young man appeared in front of the group! Jade had her mouth open wide at the sight. Professor Maximillian almost jumped. Conn smiled at Jade, while Max held Liz's hand. Captain Jack thought he recognised him. He had met his alternate – Clark Kent – on Earth-777 once… This was no ordinary human, but one with enhanced abilities.
Captain Jack explained to the team who Clark was. They needed his help now. There was no way they could defeat all these Kromaggs on their own.
"I'm relieved you can help me. I want to defeat them too. Otherwise this earth is doomed." Clark said.
Soon, Clark, Rose and her WhoSliders made their way to the anasazi ruin. The first WhoSliders were encamped there, in fact, together with the main resistance. It was a very unique scene when they met.
"Hello, my name is Rose Tyler and these are my WhoSliders"
"WhoSliders? We're the WhoSliders.. well the first ones at any rate. Do you know the Doctor?" Quinn asked.
"Of course I do. Jack does too."
"Wow – so you're my alternate!" Quinn said to Conn. "The name Quinn means Descendant of Conn. Interesting!"
"And you're mine!" Jade said to Wade.
"Pleased to meet you, Professor Maximillian", Professor Arturo said.
"It's weird how my surname is your name, and vice-versa!" Professor Maximillian replied.
Suddenly there was a new group of arrivals.
"This place is getting busy", Liz said.
"Are we sure everyone is human?" Professor Arturo asked.
"I can tell. I can use my X-ray vision" Clark answered.
"Not for something, but can we tell if you are human or not?" Professor Maximillian said.
"The Kromaggs are able to duplicate super-powers too", Captain Jack explained.
"We must trust each other", Wade said.
"Gibson Praise – a telepath child – can help tell who is alien and who isn't", Mulder said. He was with the new group which had just arrived. "My name is Fox Mulder, I used to be an FBI agent on the X-Files. The others are military, a team called Stargate SG-1. They have experience dealing with aliens. They have good firepower too."
"I knew you on my earth", Captain Jack said. Rose knew him too. "We once did an X-Files / Torchwood operation" Captain Jack said.
Gibson confirmed that Clark was in fact human, in his thoughts at least. He also noticed that there was someone in the group who was not quite human. He had not seen her earlier unfortunately, she had not been close enough for him to tell. It was Doctor Fraiser, who was a Kromagg spy!
This meant the group's location had been compromised.
Meanwhile, Rose's mobile indicated that now a segment of the key to time was very, very close. It was with this new group. It was.. the baby? William, that was his name, Rose remembered Mulder calling him that. But what would happen to him?
Mulder was worried about this revelation, that Dr Janet Fraiser was really a Kromagg. So they had to subdue her, keep her where she could do no harm. But it was best to kill a Kromagg, or they would find the way to kill you. So Jack O'Neill got out a zatgun and fired it at Janet. This way they would keep her unconscious for a while.
Then Rose explained to Mulder about the segments to the Key to Time. Probably this earth would be cleansed of the Kromaggs once the White Guardian would be back in possession of the Key. But Mulder worried, what would be the fate of the child. Only God knew. Perhaps the Guardian would restore William. So he gave Rose permission to use her smartphone and change William… Thus William showed his true form, the next segment to the Key to Time. Now only one final part was missing. Scully would not be happy.
A last group finally arrived, K'nasp with the humans Alfred and Martin.
On their way they had to battle with some Kromaggs and had succeeded in winning over them. K'nasp had to kill them, or they would have followed them and found out where the Resistance was hiding.
"The First Ones! The Ones who invented sliding!" K'nasp exclaimed.
Rose explained to Quinn how his nemesis Logan St Claire had ended up being captured by Captain Archer. Quinn knew him too from an earlier adventure.
"Who are you?" Quinn asked.
"I'm K'nasp. Jules told me all about you."
"oh Jules! I almost forgot about him.." Quinn said.
"I hoped Remmy would be here too.", K'nasp said.
Suddenly a big loud beeping noise was heard. The ground opened up near them and something rose up from the ground. It was a human-sized suspended-animation casket! Rather advanced technology, from the sight of it.
The casket began to open by itself and ages-old air came out from it.
Clark went towards it and looked inside. "It's a man!"
The man opened his eyes, came out of the casket, yawned quite a bit and looked at the people gathered around him. "Oh my God! Q-Ball! Professor Arturo and Wade! Even Maggie! And Stargate SG-1, I remember you guys!"
"I don't remember you", Jack O'Neill said.
"Oh yes that's because I met your alternate double on Earth-777, not the Jack of this earth! I'm Rembrandt Brown, I just woke up from a hundred years of cryo-sleeping, like Rip Van Winkle! It's great to be with the team again!"
So Remmy explained how he had met the Doctor again, the 7th Doctor, while Rose explained the Doctor was now in his 10th incarnation actually. Remmy said the Doctor had been trying to get here, well the 7th one was, and there was a problem as this time and place was timelocked somehow.
Then everyone introduced themselves and Quinn said they had just been talking about Jules, who he had almost forgot!
"You almost forgot him? I wonder if that's due to the changed timeline", Remmy said. Remmy still had the memories of the present and the past timeline in his mind. "Jules is a human who was brought up as a Kromagg. We had saved him from the Slidecage, both in the old timeline and in the new one. He's a young boy."
"He's an old man now", K'nasp explained.
"How is he? Is he ok?", Remmy asked.
"I hope he's still ok. He's in the main Kromagg base." K'nasp answered.
"I don't recommend going there. It's very dangerous", Quinn said. "Even though I'd love to help free Jules."
"Once we find the last segment, the Kromaggs will lose most if not all of their power on this earth, I'm sure", Rose said.
"Let's concentrate on getting it then. It's our best bet. Nothing else will be that effective", Max said.
In the meantime, Quinn, Conn, Jade, Wade and the Professors had been working on a device that would jam Kromagg telepathy and defeat their human disguises.
So Rose checked her mobile once more. The last segment could be found.. it wasn't that far. It was moving. It was moving closer to the anasazi camp. Suddenly shouts came as Clark looked and saw a Kromagg tank proceed towards their location.
A number of Kromaggs – appearing as humans with their disguises – left the tank. With them was Chromaz who had come to personally witness the destruction of the rebels. It was then that K'nasp came out and spoke to Chromaz. "I challenge you, under the Kromagg Protocols!"
"A fight to the death between the Kromagg King and my champion. I will choose my champion now."
The advisors to Chromaz did not want him to do battle, but Chromaz knew he would be a coward if he did not accept.
Clark was asked first, but thought it would not be a fair fight. His father, Jonathan Kent, had taught him well.
So Max was chosen to be the champion. Max the King fighting the invasor King, Chromaz. It was an unarmed fight.
Max could have used his special powers to raise a force field to defend against Chromaz's blows. But he was not going to, as this was supposed to be an unarmed fight. Chromaz on the other hand, tried to use his mind powers but found that they could not work. Professor Arturo had enabled the device! Suddenly the Kromagg disguises began to fade too.
Chromaz soon lost the fight. Then the other Kromaggs were about to fire their weapons against the resistance group, but Chromaz stopped them. "We have lost. This earth is yours. We surrender."
Meanwhile Rose's locator app indicated the position of the last segment of the Key to Time.
It was an amulet on the neck of Chromaz! So Rose took it from him and changed it to the last segment.
Quinn thought about his mother at this moment. She was still alive, of course, with the group.
Suddenly the White Guardian appeared. Captain Jack told her "is it really you? How can we tell if its your or an impostor set up by the Black Guardian?"
"You will know by the results", she answered. "Give me the Key to Time", she told Rose.
Holding the large Key to Time, she said "give me something more to go on. The Black Guardian has impersonated you at least once"
"So I will force the Black Guardian to reveal herself right now!"
Suddenly a rather attractive woman appeared, wearing black clothes. "Who dares?"
Remmy looked at her, "if it isn't Elizabeth Hurley herself!"
"I dare!" the White Guardian said.
"White Guardian! You have managed to find the key I see! Damn you!"
"Your team was defeated by the WhoSliders", the White Guardian said. "Rose, give me the Key now!"
Rose did this, and a white flash of light enveloped them and everything else in existence.
The White Guardian now explained what had happened. The Multiverse had been saved by the WhoSliders. Subtle balancing of the Multiverse had now been done by the White Guardian. Sliding was now made possible across parallel earths, once more. It would now be simple for Rose and the others to slide directly from earth to earth.
The remaining Kromaggs on this earth were rounded up in the following days, and they were imprisoned by authorities. Their telepathy was disabled due to the anti-telepathy devices, and thus it was straightforward to capture them. Some governments sentenced many Kromaggs to death, while others kept them as prisoners.
Other Kromaggs on other parallel earths were defeated too, whether due to the White Guardian's intervention, or due to the Doctor himself.. Also, the White Guardian had restored Mulder and Scully's child, William.
After all the celebrations were over, Rose's WhoSliders team prepared to go back to Earth-776, where Rose would prepare for her final slide. Her team had learnt how to choose which earth to go to, thanks to the recent developments. Rose and Captain Jack then slid back to Earth-777, Captain Jack would rejoin Torchwood while Rose had to help a companion of the Doctor – Donna!
The original WhoSliders on the other hand now could slide again and also recontact the Doctor!
Earth-Prime or Earth-001 was once more safe, or was it? Time will tell, as it always does.
THE END… of WhoSliders Volume 2
Rose's journey continued in DR WHO's 4th season.
Click here for a Doctor Who/Bangles Mashup video
All Marks are owned by their owners.
Doctor Who, Rose Tyler, Torchwood, Captain Jack, Martha, Captain Jack, UNIT, the Black and the White Guardian are the BBC's
The Sliders, the Kromaggs, Jules are Fox/Universal/Sci-Fi Channel's
The Tok'ra, the Ancients, the Replicators, Anubis, the Goa'uld, naquadha, the Wraiths, Commander Caldwell, Stargate Atlantis and Stargate SG-1 (including Sam) are the property of Stargate (II) Productions, Showtime/Viacom, MGM/UA.
Clark Kent, Chloe Sullivan, the Fortress of Solitude are DC Comics and The CW
Liz Parker, Max Evans are Jason Katims Productions and The WB
Kersh, Mulder and Scully are Chris Carter's and Fox Television's
Captain Jefferson Archer is mine (parody character after all) because I made him up
Professor Justine Robson and Tavlar are invented characters of mine
This fanfic is for entertainment purposes only and no money exchanged hands.
No copyright infringement is intended.
The original characters, situations and story are the property of the author.
This story may not be posted or printed elsewhere without the consent of the author.
AUTHOR NOTES:
Part of the changes Tavlar had mentioned, started from CRISIS ON INFINITE EARTHS in DC Comics. But it was not just that. Gallifrey's destruction – indeed the Time War – had to do with the rest of the changes too.