The popular 80's movie Back To The Future II depicted a very different – yet similar – future of the year 2015. In the movie, Marty McFly and Doc Brown went to the future and emerged on 21st October 2015 – just a couple of days ago.
Imagine if they came to OUR 2015 instead: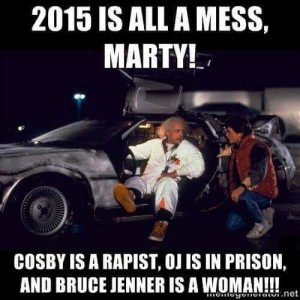 Things they got ALMOST right: the Cubs winning the World Series (they ended up in the final).
The famous Hoverboard scene:

Things they got right or almost: Compost fuel (biogas) exists, though it's not too popular ; flying cars like the Terrafugia but nobody uses them; the Hoverboard (it's called a hoverboard but has two wheels and is more like a segway); Tablets; Wearable EyeGlass devices (think Google Glass); Self-tying shoes (Nike actually invented them); 3d Movies (not Jaws 19 but there are so many sequels) ; Holograms (the Michael Jackson hologram exists); Flat-Screen tv's; Skype; Automated waiters (just think of iPlace in Malta).
There's an amazing Parody version of a trailer of an imagined new BTTF movie:

Michael J Fox trying on the self-lacing shoes FOR REAL:

Toyota did a video reuniting the two stars Michael J. Fox and Christopher Lloyd.
https://www.youtube.com/watch?v=xFyY7_hc-14
Teens react to BTTF:

A video showing Marty McFly and Doc Brown ending up in OUR 2015 instead:

This video shows how Back to the Future predicted 9/11. Hmm, interesting coincidences.

Universal Pictures created a fake Jaws 19 trailer in time for Back to the Future Day too!

Reunion of Marty and Doc Brown for BTTF Day:

Thoughts of Doc on the Future on BTTF Day:

Davidekyo created this Italian video with footage from some us program:
https://www.facebook.com/davidekyo/videos/10152972431301324/