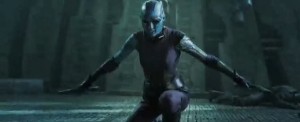 Marvel's new movie Guardians of the Galaxy stars some really great actors including Karen Gillan (Amy in Doctor Who) as well as Vin Diesel, Benicio del Toro, Chris Pratt and Zoe Saldana.
This movie is from the same studio which gave us The Avengers, as well as Iron Man, Captain America, The Hulk and Thor.
This is Space Opera at is finest, where Peter Quill, having stolen a gem from the villain Ronan the Conqueror, ends up having to form a team that sounds like the space equivalent of Avengers. The team includes a raccoon (Rocket), a tree humanoid (Groot), the exotic but deadly Gamora and the somewhat mad (and stupid) Drax the Destroyer. When he finds out what the gem really is, the galaxy's fate will be threatened. The movie is out on August 1, 2014.