The news was already out that there will be a Wild West episode in Doctor Who Season 7. Doctor Who already did the Wild West in the classical series' episode The Gunfighters starring William Hartnell as the First Doctor. Yes, Doctor Who isn't a programme which is "just scifi"… it can be at times but it spans various genres and yes, this is a Western…
Now the news came out that the popular actor Ben Browder of Farscape and Stargate SG-1 fame will star in a Doctor Who episode in Season 7 .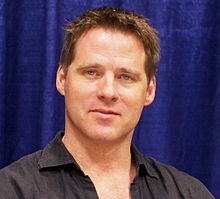 Upstairs Downstairs Director Saul Metzstein is directing the episode, which is being written by Toby Whithouse. Ben Browder is best known for the role of astronaut John Crichton in the series Farscape. He also was in the cast of Stargate SG-1 where he played Cameron Mitchell.
[DEAL_OF_THE_DAY]
Also recently Ben Browder guest starred in Chuck (no I haven't seen Chuck).
The only better news would be Ben Browder becoming the Doctor's new companion…
I think I'll rewatch season 1 of Farscape now..