So I lately took a look at the late Steve Jobs Biography… I think it's worth reading. Without spoiling anything, this is a fascinating book which is worth reading…
Steve Jobs was born on the 24th February of 1955, to 2 Wisconsin University graduate students who decided to give him up for adoption.
The intelligent Steve Jobs tried different avenues before he decided to start up Apple Computers company with Stephen Wozniak, and he did this in his garage.
The iPod touch / iPhone / iPad are all devices created by Steve's genius….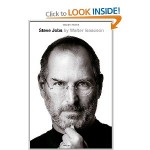 [kml_flashembed publishmethod="static" fversion="8.0.0″ useexpressinstall="true" movie="http://www.youtube.com/v/Y2J7DMF4GYM" width="425″ height="350″ targetclass="flashmovie"]
[/kml_flashembed]