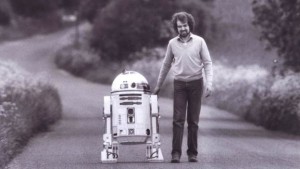 Tony Dyson is well known for creating the original Star Wars robot R2D2. Professor Dyson was been found dead in his house in Munxar, Gozo, the Maltese island, after a call by a neighbour (his door was left open).
An autopsy will determine the cause of death, though it is believed to be natural.
Last year he participated in Malta Comic Con 2015.
A GoFundMe page has been launched by his friends in the UK. It explains
 "Sadly, as wonderfully savvy he was with creating, money wasn't one of his strong suits. As the people who love him dearly, we are trying to make his arrangements. His wish was to be donated to science, because he wanted those to look into his brilliant brain. Sadly, due to the circumstances surrounding his death (he died alone in his apartment of natural causes), he wasn't found quickly enough to have this happen.  We believe his next wish was to be cremated. We have gotten an invoice for this to happen, and the cost in US Dollars is close to $8000. Needless to say, this is more money than most of his friends have on hand.

Malta does not do cremation, so his body has to be shipped to his home country, England.  This is the major expense and why it is so costly. "
Perhaps Disney could intervene and help out?