A post on the Bleeding Cool website has revealed the BBC's latest news about a Doctor Who Movie.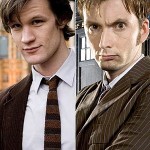 So this will be a big reboot, and the movie will be directed by Harry Potter director David Yates.
Producer Jane Tranter said "We're looking at writers now. We're going to spend two to three years to get it right. It needs quite a radical transformation to take it into the bigger arena. Russel T Davies and then Steven Moffat have done their own transformations, which were fantastic, but we have to put that aside and start from scratch."
Really cool and most fans will be itching to see what the result will be. I wonder who will play the Doctor. Will it be Matt Smith, David Tennant or somebody else entirely?
UPDATE: Suddenly BBC America Tweets:
'A Doctor Who feature film remains in development w/ BBC Worldwide Productions in LA. As of yet no script, cast or production crew in place'
What's happening? Was it all just a rumour?